Untap Link gives you the ability to update KPI Actual values through Microsoft Excel.
Once logged in, select Update Actuals from the main menu dropdown.
If this is the first time you are using the plugin, a new tab will be created and a template will be added listing all the KPIs that need to be updated. NB if there are KPIs missing or KPIs showing that are not required, this can be managed in Untap by the company administrator.
If you are a part of multiple companies, select the company you wish to update values for and click Refresh.
Once the new 'Untap – Actuals' has been created, you will be automatically navigated to this tab when you select 'Update Actuals' from the plugin menu.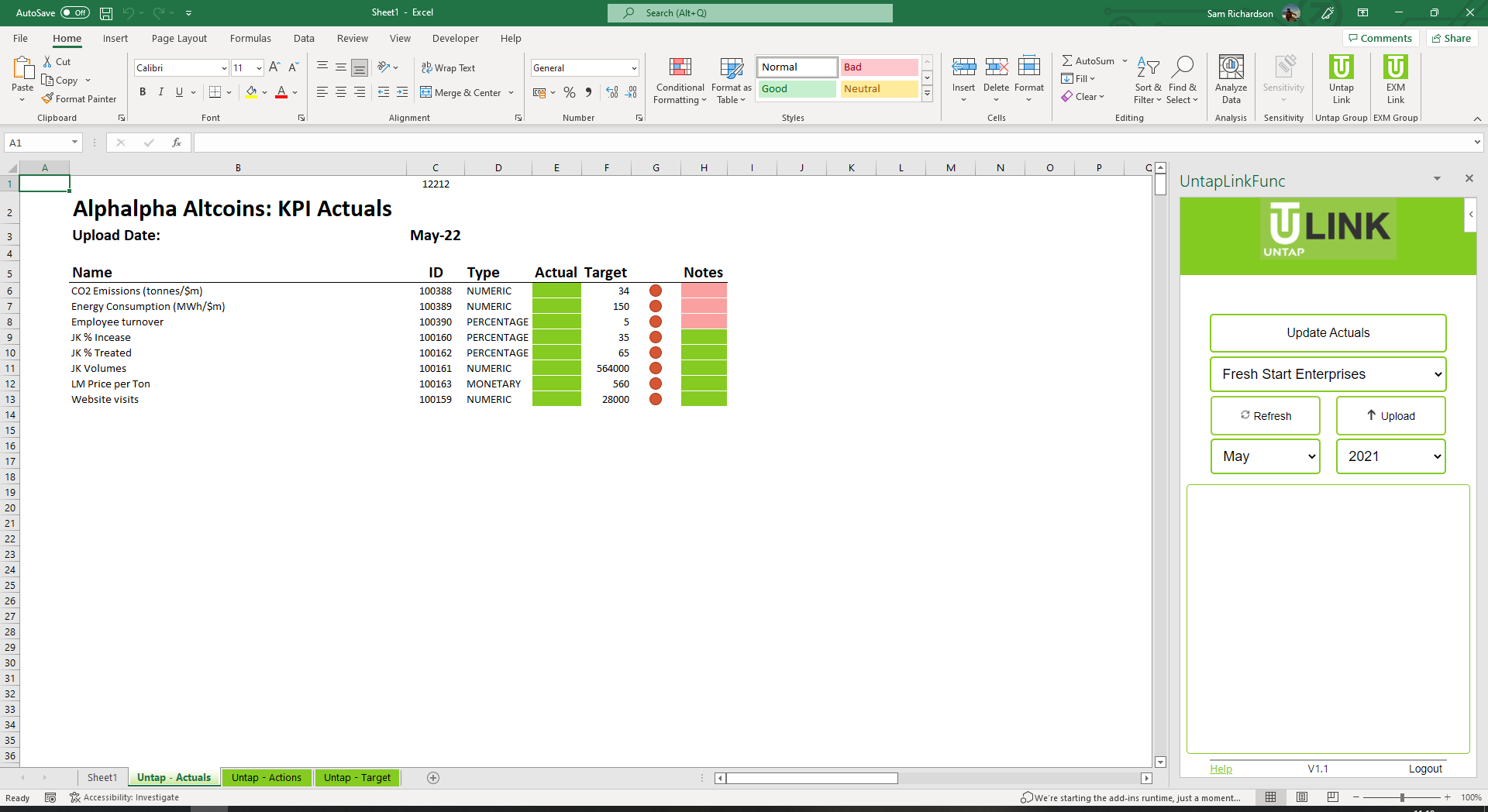 The template shows informational columns such as the name, type, and target, these are not editable. Also displayed is the date period (C3), which is automatically synchronised with the date selected from the plugin.
In the Actual column, if using the tool for the first time the 'Actual' column will need to be configured in order for the correct data to be uploaded each period. The Actual values can be entered manually or you can reference a different tab or worksheet which already has the data (the formula can use the Name or ID column and date period cell as a reference to pull through the KPI data for the selected period).
Cells that are editdable are highlighted in green. If a cell is not highlighted, this may be because the KPI is configured to be reported Quarterly or Annually and no data is required for the selected month.
In the Notes column cells that you can enter a comment are also highlighted in green, whereas if they are highlighted in red this signifies that a comment is Mandatory for that KPI. These will also be highlighted in the dialog box when the KPI data is downloaded.
Once you have entered the required data, clik upload to push the data into Untap.
In the dialog box you will see the number of KPI's to update, and how many have been successfully uploaded. Any errors will also be highlighted fo you to change and upload again.