This screen will list the available Profiles for users. Profiles set the permissions of which menu options are available and if they can be modified or are view only (if applicable).




Several Profiles at the top of the list will appear with the text in a lighter grey colour.
These are default profiles from Untap, based on the typical permissions given to Portfolio, Company Executive or Team Member users.

Select the name of a profile from the left hand side (the row will highlight yellow).
You can double click into a cell to edit the Profile Name or Description.
When a single profile has been selected, you will have the option to Copy.

On the right hand side there is a panel called "Permitted Access".
This panel will update to reflect the settings for whichever profile is selected from the left.

Expand the sections to see which menus are visible and if they can be edited.
Double click to make changes to the options and click Save.

A tick means any users with this profile will have access to this section.
If a menu shows a grey square, this means a user would have access to some of the menu options.
A blank checkbox means they will not have access to this option.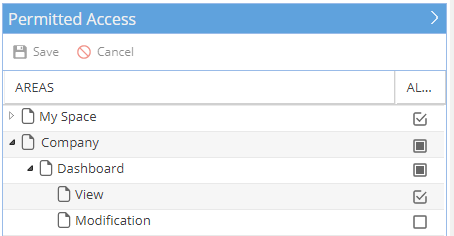 So in the example above, the user would have all the options from My Space.
However in the Company menu we can see a user can view the Dashboard (but not edit).

Portfolio Users Profiles can be managed from Portfolio > Team or Portfolio > Admin > Users
Company Users Profiles can be managed from Company > Admin > Company Users

Note: You will not be able to edit the permitted access settings for any of the system default profiles.
In this case, you would copy the existing profile and then make the changes required.