Reports can be accessed by clicking on the icon from the sub menu on the left when viewing a Company:



Example of the Reports screen: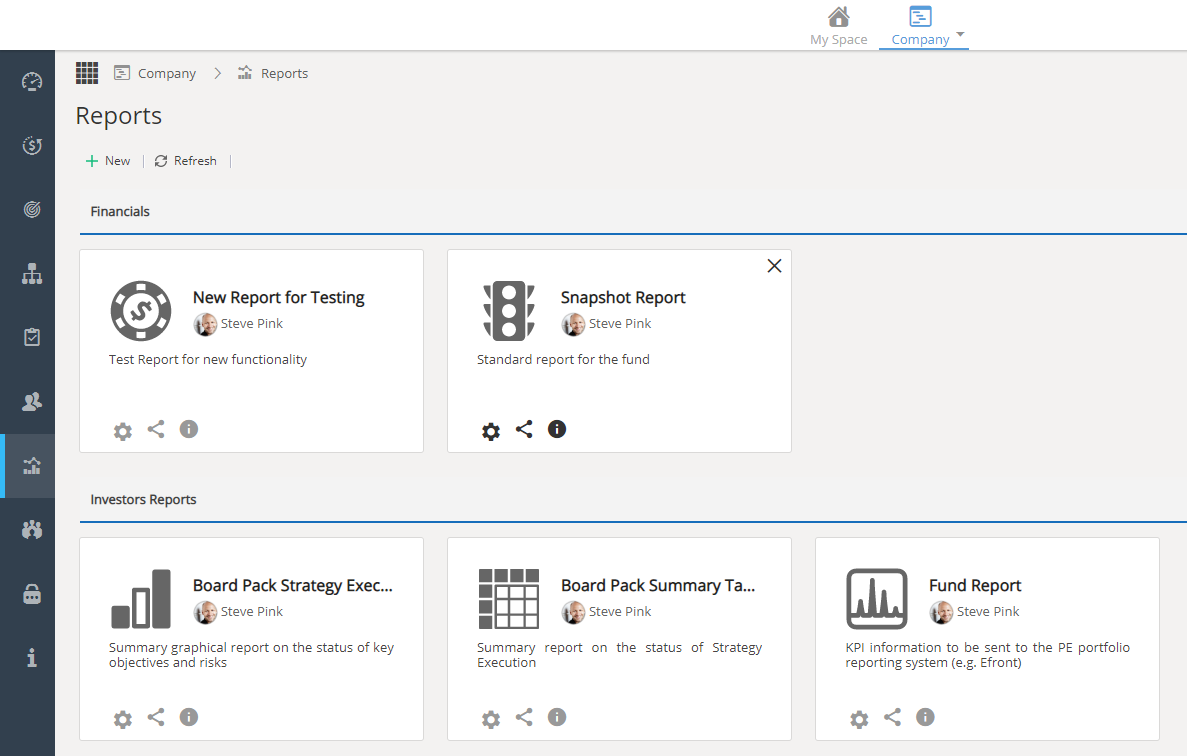 Icons along the top of the screen:
Expand Screen


The arrow icons make the menu down the left hand side of the page
invisible to maximise the space available to display the details.
When you use the button again the menu will reappear.
Close Window


Use the X to close the page (the main screen will show blank).
Choose a sub-menu from the left hand side to load a page.
+ New



Allows you to

create a new report, this button will take you to the General Information tab so you can enter a name for the report and then set up your widgets to show data.
Refresh


Looks for any updates to information displayed on the page.
Add Existing



If a report was previously removed, it can be

recovered

or

permanently deleted

. You will need to either be the person who

created

the report OR have

edit permissions

.

Groups



Click on the

spanner icon to create, edit or remove groups.
This can help split reports into categories such as; Scorecards, Financials and Performance reports, to make them easier to manage.

Grid View



If Grid View is selected, the reports will be shown with an icon.
The reports will be shown in groups (if applicable).


List View



If

List View is selected the reports will be shown in a basic list.
These will be split up by group

(if applicable).




The

groups can be expanded / collapsed.



Note: Some of the icons below will only be displayed if you created the report
(or have been given edit permissions).

Configure



If you are the

owner / have permission to edit the report,
the cog icon will take you to the General Information tab.



This will allow you to update:




Report

name

,

design

(column layout),


icon

displayed in Grid view (if applicable),


group

and

description wording.

You will also be able to set the report to be emailed

periodically.

Share


When you first create a report you will be the only person who can see it. This icon will take you to the Share tab to change the permissions

.

Remove



This icon will

remove

the Report from the view.


The

delete

icon will appear when in List view:

In Grid view, use the X on the top right corner of the report box instead:


Note: The Report will still be available (or can be deleted
permanently) from the "Add Existing" option.

Additional Information



Clicking on the info icon will show the

creation date

the

person who created the report originally.

If you find you do not have permissions to make edits you
can check who will need to change the settings.

Click the X on the pop up to stop this showing.

Note: The info icon is only available when Grid View

is selected.

To view a report:
1) In List View, double click anywhere in the row for the report.
2) In Grid View, click on the Report Name.
This will take you to view the Report Widgets