The Portfolio > Team menu will show a list of the Portfolio Team Members.





Summary of Icons along the top:

Expand Screen


The arrow icons make the menu down the left hand side of the page invisible to

maximise

the space available to display the details.
When you use the button again the menu will reappear.
Close Window


Use the X to

close the page

(the main screen will show blank).
Choose a sub-menu from the left hand side to load a page.
+ New



If you click on + New a pop up box will show asking for some basic details:



Remember when a user is created they will receive an email from Untap to set up a password for their account.

The Access level will be based on profiles from Portfolio > Admin > Profiles menu.
The only options available in the drop down will be where access type shows as Admin Access or Full Access.
To create users with other Access Types, you need to have access to the Company > Team menu.


Refresh


Looks for any

updates

to information displayed on the page.

Quick Search


Search

for a user by

Name.


To clear this filter, delete the name and press enter to view all again.

If you need to add a Portfolio user to a Company, go to Portfolio > Portfolio Summary > Investment Status - Overview tab.
On the Executive Team panel, click the green + icon and select to add an existing Portfolio user.


To edit details for an existing team member, click on their name and a pop up window will show: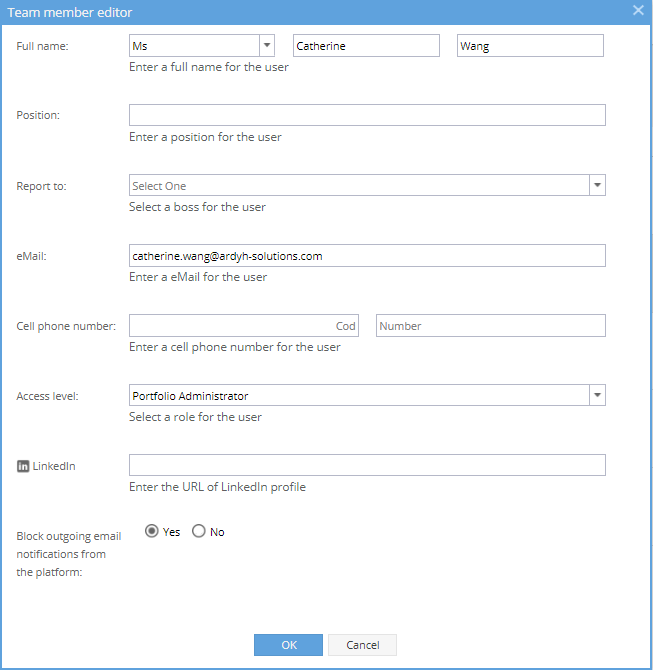 *Block outgoing email notifications stops the user receiving system emails such as reminders.
The user would still receive an email if a password reset request was made.