Company > (Select a Company) > Meetings
This menu will give you a list of Meetings which have been created.

Expand Screen


The arrow icons make the menu down the left hand side of the page invisible to maximise the space available to display the details.
When you use the button again the menu will reappear.
Close Window


Use the X to close the page (the main screen will show blank).
Choose a sub-menu from the left hand side to load a page.
+ New



To create a new meeting, click

+ New
A pop up window will show asking you to enter some details:


Click OK, to create the Meeting.
Click on the Name of the Meeting to view the Details
and be able to add more information

.

Refresh


Looks for any updates to information displayed on the page.
Delete


Click on a meeting (the row will show grey)
and the Delete button will show available.

A box will ask you to confirm you want to go ahead:

Any documents, comments, agenda
and minute notes will be removed.
Financial Year


Change the drop down to view details for a specific year.
The system will show the Current year as the default.
Filter



You can

filter

the Meeting List view by

Name

,

Organizer

,

Type

or

Tags:



Each meeting in the list will show:




Click on the Name of a Meeting to view the Details.

Click on the S curve to see a breakdown of the Execution Status.





If you click on a meeting where you are not listed as a participant, you will not be able to see any details.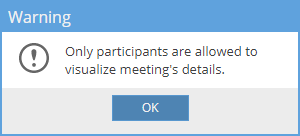 If you think you should have access to the meeting, ask the Organizer to get you added so you can view meeting information.