Messages is a feature that allows you to have a Conversation around items
(such as Actions or Objectives ) that you are involved with.
The messages panel will open when you first log in to Untap so you can check for any updates.
The number in the red circle shows how many unread updates you currently have.


You can mark all Unread updates as read by clicking the Mark as Read button.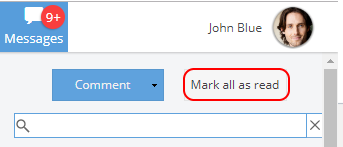 Close the messages panel by clicking on the speech bubble icon for the Messages.




You can add a New update to an object that you are involved with by clicking on Comment.
Select which Item you wish to add a comment to using the drop down list, along with who should be notified, and the Comment itself.
Click Create when you are finished to add the Update.
The Contextual (Right Click) Menu, offers you further Options for each Update.

Go to details

Depending on the icon shown at the bottom left of the update


This will take you to Objective / Initiative Details

screen.


For Actions

, this will take you to the corresponding Objective / Initiative.

Close Update

*Only available if you made the update

Delete Update

*Only available if you made the update

Unfollow Object

Will remove you from the conversation, to stop receiving updates on this item.

View Participants
S

hows you the people who are following the

Item's Updates.





Fewer options will be shown if the update was made by another person: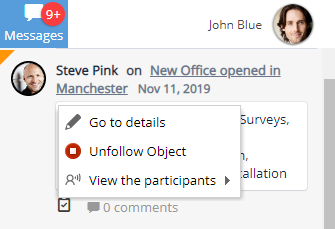 To continue the conversation on an item already shown in your updates, click on the speech bubble icon where it says comments and a text box will show on the left hand side to add further comments.