What is a Playbook?
A business playbook reflects a plan; an approach or strategy defining your company's approach for getting things done. A Playbook translates Vision and Strategy to Tactics, helping the team to visualize targets, continuously improve and know what is needed to achieve goals and be successful.

Where are Playbooks found in Untap?
If you are a user with access to the Portfolio menu, Playbooks can be found in the Company section, within the blue menu bar along the top of the Value Creation Plan (VCP).




If you have selected a Risk, Issue or Action in the VCP (where the row shows highlighted yellow), the Playbooks pop up will display an error.



To open the Playbook Library, make sure the row selected is the folder from the top row of the VCP, an Objective or an Initiative.

Note: If you can only see My Space & Company icons along the top, you will not see Playbooks appear in the menu bar of the VCP, however you will still be able to add or create Playbooks, which is explained further below in this article.

What does the Playbook Library look like?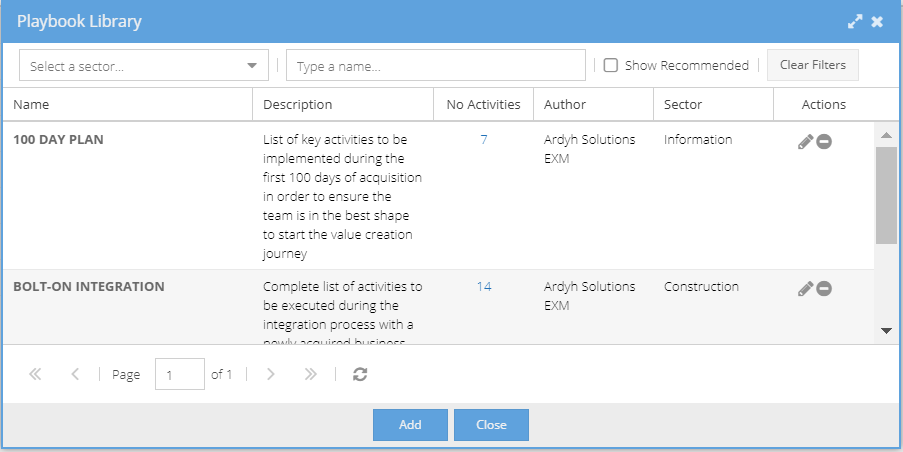 "Select a Sector"
Drop down list to select a Sector which will filter the list of Playbooks (only one sector can be selected at a time).
"Type a Name..."
Start typing a name of a playbook to filter the list view.
Show Recommended
Tick box to filter this view to only show Recommended Playbooks.
Clear Filters
Clear any filter options selected for Sector / Name / Show Recommended tick box and show all Playbooks.
Name
Name of Playbook.
Description
Description of Playbook.
No. Activities

A count of how many

Initiatives

and

Actions

form part of this playbook (excluding the starting Initiative).

Author

Shows the

Portfolio Company

name where the Playbook originated from. This will help to identify if the Playbook was created by the Untap team or your organisation.

Sector
If one or more sectors have not been specified, the Playbook will be available to all sectors.
Actions
Portfolio Users will see the Actions column with a pencil icon to edit the details for a Playbook and a circle icon with a minus sign to delete the Playbook entirely.
Note: Company Users will see the Actions column appear blank without any icons.

How do I add a Playbook to my VCP?
Right click into the VCP on the top line (with the folder), on the name of an Objective or an Initiative where you want the Playbook to be added and you will have the option to 'Add Playbook'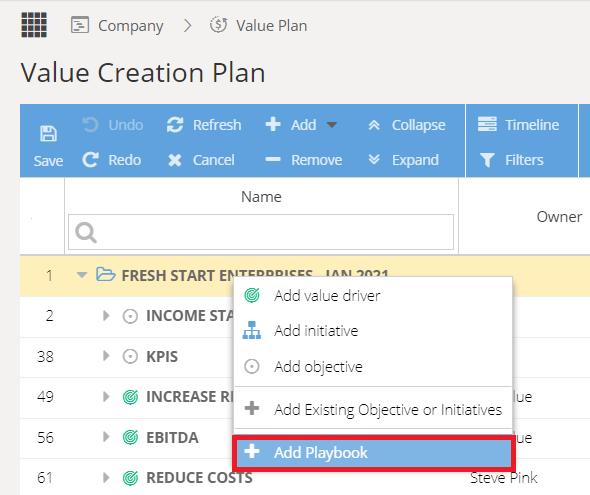 (Note: 'Add Playbook' will not show as option if you have right clicked on / selected an Action, Risk or Issue)

Clicking on the 'Add Playbook' option will show the Playbook Library where you can select a playbook and include it in your VCP.

How do I create a new Playbook?
Build up a 'play' in the VCP
Plays can only be made up using Initiatives and Actions
(Initiatives can be nested)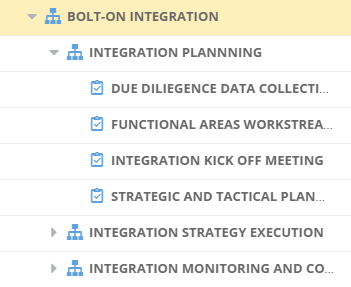 Right click on the top level initiative you want to use for your Playbook.
Select 'Create Playbook'



In the 'Playbook Creation' window, fill in the details such as Name and Description.
If applicable, you can add multiple Sectors or multiple KPI Triggers.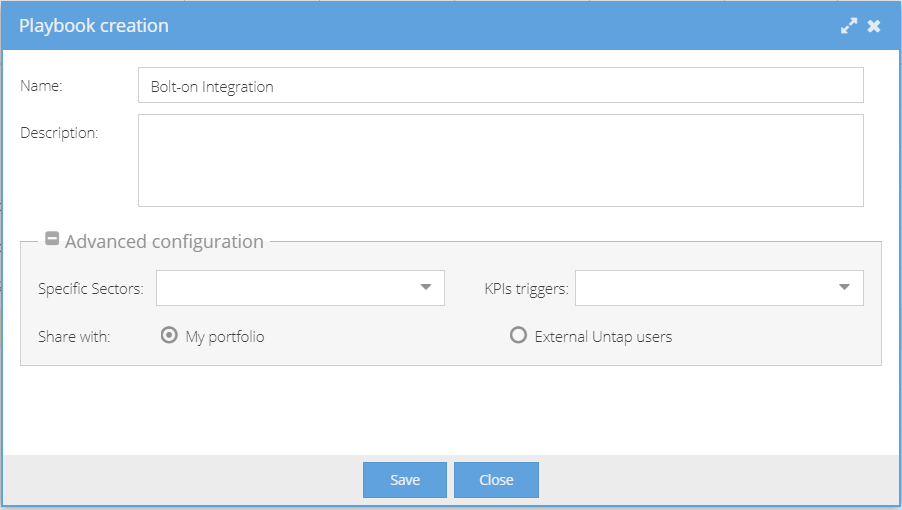 What is meant by a KPI trigger?
The KPI trigger will show a drop down list of all KPIs (from the KPI Library).
One or more KPIs can be selected from the list before Saving.
If a KPI colour indicator shows red, UnTap will flag up a suggestion to use this Playbook.

What does Share with "External Untap users" mean?
This option will commonly be used by the Untap Team. For example we may share a playbook we created with different companies for demo purposes.

Can I use Objectives / KPIs?
Playbooks can only use a mixture of Initiatives and Actions. You can right click on an existing Objective in your VCP and add a playbook to an Objective. Objectives / KPIs can not be used to form a Playbook because the configuration of KPIs varies so much, it is not an activity that is repeatable to run from a playbook.

What happens to Documents / Checklists on the Actions?
When you select a Playbook with Actions, any documents or checklist items which existed when the Playbook was first created will be shown in the Actions added to your VCP.

If you change an Action, you will need to create a new Playbook if you want these changes to be available in the future, otherwise they will only be shown in the current VCP.

confirm you want to delete the Playbook, as this action can not be reversed.



Note: Any Initiatives or Actions which originally came from a Playbook but currently being used in your VCP will remain. Deleting a Playbook will mean this will no longer show in the Playbook Library and can not be selected to add to any other Value Creation Plans.